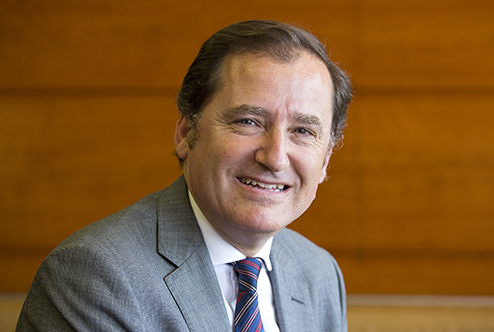 Seville

Local Law Practice
Public Law
Regulated Sectors
Urban Planning and Enviromental Law
digital
Download information as
vCard

Print
QUALIFICATIONS
Degree in Law from the University of Seville.
Expert in Town Planning and Real Estate Development Programme. Instituto de Práctica Empresarial (IPE). 2003.
He has sat the competitive examinations to qualify as a judge and public prosecutor and is Counsel to the Regional Government of Andalusia.
CURRENT PROFESSIONAL EXPERIENCE
He joined MONTERO ARAMBURU ABOGADOS in 1997.
He is secretary of various Landowners' Consortiums and a legal advisor to telecommunications companies, city councils, local public enterprises, regional public enterprises and public agencies in Andalusia in relation to public procurement, renewable energies and Administrative Law in general.
He has defended numerous companies in infringement proceedings in environmental, urban development and forestry-related matters, as well as in proceedings relating to the repayment of subsidies.
He also provides advice on urban and environmental planning, planning permissions and approvals, concessions, permits and registrations in public registries to various types of companies engaged in areas such as mining, aeronautics, construction, forestry management, agricultural and chemical industries, renewable energies, biotechnologies, food and nutrition, healthcare and shopping centre development, etc. He has experience in filing all types of personal liability claims.
TEACHING EXPERIENCE
Professor on the Erasmus Mundus Masters Programme in Urban Studies in Mediterranean Regions of the University of Seville.
Professor on the Masters in Legal Practice of the Loyola University Andalusia.
Regular speaker at various conferences and seminars on urban development, the environment and renewable energies.
PUBLICATIONS
"Breve valoración acerca de la constitucionalidad del proyecto de Ley estatal del suelo de 14 de Julio de 2006 y su posible incidencia sobre la LOUA" ("A brief assessment of the constitutionality of the Land Law Bill of 14 July 2006 and its possible impact on the Urban Planning Law of Andalusia"). Journal "Reflexiones", issue no. 1 – 1/07. Centro de Estudios de Obras Públicas de Andalucía (COPT).
"Comentarios a la Ley de Gestión Integrada de la Calidad Ambiental de Andalucía". ("Notes on the Integrated Environmental Quality Management Law of Andalusia"). Collective work. Lead author. Publisher: Thomson Aranzadi- Montero Aramburu Abogados. 2008. ISBN 978-84-8355-863-8.
"El nuevo régimen del suelo en la nueva Ley 8/2007 de 28 de mayo estatal de suelo y su incidencia sobre la Ley de Ordenación Urbanística de Andalucía" ("The new land use rules under the new Land Law 8/2007 of 28 May and its impact on the Urban Planning Law of Andalusia"). Actualidad Jurídica Aranzadi, issue no. 735. 27 September 2007.
He contributes regularly to publications relating to the construction and real estate sector, public procurement and Administrative Law in general.
He is a member of the Seville Bar Association (membership no. 9151).