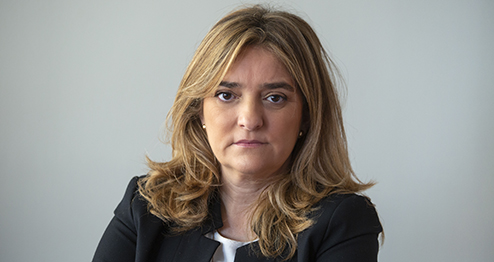 Sevilla

Download information as
vCard

Print
Law Degree from the University of Seville
Master's Degree in Human Resources from the Andalucia Business School (Escuela de Negocios de Andalucía).
She is currently the director of the Digital and Technological Business Law practice at MONTERO | ARAMBURU ABOGADOS.
For eighteen years she conducted her professional career as senior lawyer in the British Telecom group, which she joined when said group absorbed Arrakis Servicios y Comunicaciones, company in which Lola held the position of head of the legal services department.
Up until joining MONTERO | ARAMBURU ABOGADOS, Lola has provided advice in digital and technological innovation regulatory compliance to various technology-based companies. In addition, as an external partner of a major leading cybersecurity consulting company she has performed regulatory adaptations for companies from various business sectors.
She is a data protection delegate in public law corporations and teaching centres and collaborates in associations in the ICT sector.
In the field of teaching, she is a lecturer of "digital compliance" in the Master's Degree in Digital Business and in the diploma course LegalTech, Digital Law and Legal Innovation, both at the Universidad Loyola of Andalucía; she is also an instructor in data protection matters in companies from various private sectors and public administrations, in which she has undertaken adaptations and implementations of the RGPD-LOPDGDD.
Specialised in providing legal advice on the following matters focusing on the core business and analysing the risks for the company:
DPO-DPD. Responsible for creating a data protection culture in the organisation, through the creation/drafting of a body of regulations and the assessment and establishment of technical and organisational processes and measures in compliance with RGPD-LOPDGDD. Liaison with interested parties and supervisory authorities.
Data protection. Adaptation and compliance with the RGPD-LOPDGDD. Drafting of informative clauses, data processing agreements, registration of data-processing activities, life cycle of data, risk assessments, obtaining consent, etc.
Drafting and review of all types of agreements with corporate clients and negotiation of the contractual conditions.  Review of clients' RFPs, RFQs, MoUs, NDAs, supply of services contracts and impact analysis.
Drafting and review of contracts with suppliers, drafting of GTCs, service level agreements (SLAs).
Public Tenders.  Study of Tender documents and preparation of the required paperwork.
Product and data services and ITS launching, drafting marketing conditions, in accordance with the regulatory framework.
Responding to court summonses and customer complaints.  Drafting of appeals and dispute resolution procedures before the SETID, CNMC, OMIC, etc.
Regulatory compliance.  Implementation of the regulations specific to the business activity and drafting of the Legal Briefing or reports on the legal aspects of the company's core business.
Drafting and implementation of security policies, technological use of business technology tools or BYOD programs.
Intellectual property. Protection of technological assets.  Drafting of contractual clauses, escrow and registration agreements.
Entrepreneurship, start-ups and investments.  Providing advice to investors or Venture Capital companies on Smart or Dumb money models.  Legal advice, support and solutions.
She is co-author in the publication Data Protection Factbook published by Aranzadi. She wrote the chapter entitled: "La protección de datos en el sector de las telecomunicaciones" ("Data protection in the telecommunications sector") (2003), author of several articles published in magazines in the ICT sector and Social Networks and regular speaker at courses and seminars related to the ICT business  and Data Protection sector.  Member of OdiseIA.
Member of the Andalucía Digital Committee of Experts. AECOTEC, cybercooperator at the INCIBE (National Institute of Cybersecurity) and member of the Monitoring Club of the University of Seville (part of the Aurea US'Program).
Languages: English.